Drain Cleaning & Sewer Services in Dixmoor, IL
For over 30 years, homeowners have relied on Reid & Pederson Drainage for drain and sewer service in Dixmoor, IL and the surrounding area. From drain cleaning to sewer repair and everything in between, you can count on our team of experts to provide cost-effective solutions to your sewer and drain problems!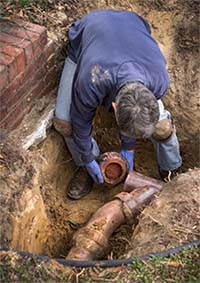 Why Choose Us for your Dixmoor Drain Cleaning and Sewer Repairs?
We are Licensed Drain Layers
We are a Better Business Bureau Accredited Business with an A+ rating and zero complaints
We are members of the PACP (Pipeline Assessment & Certification Program)
We are members of the Crete Chamber of Commerce
Drain Cleaning Services
At Reid & Pederson Drainage, we are experts in providing professional drain cleaning services in Dixmoor, IL. From complicated commercial drain rodding to unclogging residential bathroom drains, you can count on the Dixmoor drain cleaning contractors at Reid & Pederson for quality results.
Our team has over 30 years of experience in providing residential, commercial and industrial drain cleaning services in Dixmoor. So for all your drain cleaning needs, big or small, be sure to contact the experts at Reid & Pederson, your trusted Dixmoor drain cleaning company.
Sewer Rodding
Reid & Pederson provides professional sewer rodding services in Dixmoor, IL. Our knowledgeable technicians quickly get to work using professional-grade rodding machines to blast away roots and debris from your Dixmoor sewer line. Annual sewer rodding in Dixmoor, IL is a good idea if your Dixmoor home experiences frequent sewer problems.
Sewer Line Repair
Our Dixmoor sewer contractors have the talent and technology to handle any type of sewer repair problem. Our sewer camera video inspections can pinpoint the exact location of sewer problems and can also find areas of concern before big trouble begins. Our high-resolution video cameras travel through sewer lines to get a first hand look at your Dixmoor sewer system. This highly effective diagnostic tool eliminates guesswork and allows us to provide you with the most cost-effective and professional estimate for sewer line repair in Dixmoor, IL.
At Reid & Pederson Drainage, we can take care of all your Dixmoor sewer repair needs. Contact us today!
Dixmoor Drain & Sewer Pros
Reid & Pederson Drainage have been providing professional drain and sewer service to Dixmoor, IL property owners. We provide you with cost-effective solutions to any drain or sewer problem you may have, plus we offer 24/7 emergency services and low flat rate pricing. Whether you need sewer repair, rodding, hydro-jetting or drain cleaning, trust the experts at Reid & Pederson and give us a call today!