Drain Cleaning & Sewer Services in Palos Heights, IL
The experts at Reid & Pederson Drainage provide a comprehensive array of drain and sewer services in Palos Heights, IL. We offer sewer and drain cleaning as well as sewer repairs that you can count on to remediate issues and restore order at your home or business. Whether you need sewer rodding, drain cleaning, hydro-jetting, or a sewer repair, our experts are the ones to call!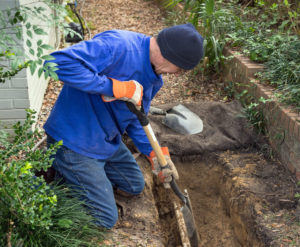 Drain Cleaning Services
We have been a trusted drain cleaning company in Palos Heights for over 30 years. Our experts have seen it all and have provided solutions for every kind of clog imaginable. Whether it is a big or small issue, or at a residential or commercial property in Palos Heights, if you need drain cleaning in Palos Heights, we can get the obstruction taken care of.
Sewer Rodding
Sewer rodding is our specialty here at Reid & Pederson Drainage. For over 30 years we have been providing comprehensive and quality sewer rodding service in Palos Heights, IL. If you're experiencing repeated backups or an impending backup, give us a call and we will quickly dispatch one of our experienced sewer pros to perform sewer rodding at your Palos Heights home or business.
Hydro-Jetting
If you suspect your pipes need a good cleaning, contact Reid & Pederson Drainage for hydro-jetting in Palos Heights. We use high-pressure water that has enough power to break up even the toughest blockages and clear scale and other buildup from the pipes. Hydro-jetting in Palos Heights is a great option for cleaning pipes without damaging them.
Sewer Repairs
We can provide you with cost-effective sewer repair solutions for any damage your sewer has sustained. Reach out to us if you need sewer repair in Palos Heights, and our experienced pros will perform an inspection of your system and recommend the best options for repairing it. Our sewer contractors have high-tech video equipment that we use to examine sewers in Palos Heights so that we can provide a tailored approach to repairing your sewer.
Drain & Sewer Pros in Palos Heights
The team at Reid & Pederson Drainage can help with any sewer or drain-related problem in Palos Heights, from simple residential systems to complex commercial ones. We have specially equipped trucks and use expert tools to clean out drains and sewers. Reach out to us when you need help with the drains or sewers at your Palos Heights home or business!