Drain Cleaning & Sewer Services in Phoenix, IL
Do you need help with the drainage or sewer system at your property in Phoenix, IL? Call the experts at Reid & Pederson Drainage for professional assistance from our sewer experts. In no time at all, we will have the problem identified and provide an efficient solution for getting it fixed with a minimal amount of hassle for you. Our team will get things back to normal as soon as possible, so call us today for drain or sewer service in Phoenix, IL!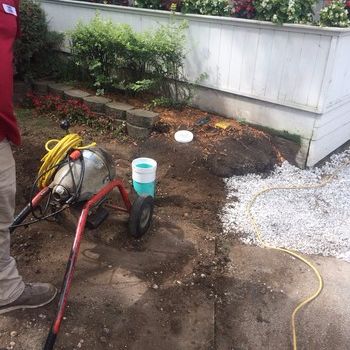 Drain Cleaning Services
We have drain experts on staff who can take on all of your problems. If there is a clog or blockage stuck in your system, our drain cleaning services in Phoenix, IL will get it cleared out so things can flow properly again. The Reid & Pederson Drainage team has fully stocked trucks that come equipped with professional tools to get the obstacle taken care of.
Sewer Rodding
Our sewer experts can also come out and perform sewer rodding in Phoenix, IL at your home or business. We begin by using our expert tools to identify the source of the clog, which can include a specialized sewer camera that allows us to see the issue up close. From here, our team works to determine the best method for sewer rodding so that the problem is remediated quickly.
Hydro-Jetting
We also offer hydro-jetting services in Phoenix, IL for commercial establishments. Using our powerful hydro-jetting machine, we can send highly concentrated streams of water into the sewer to break up clogs and clean the walls of any grease and waste buildup.
Sewer Line Repair
Do you need to have part of your sewer line repaired in Phoenix, IL? Our skilled technicians will assist with fixing the pipes, no matter what is wrong with them: a leak, a burst pipe, a collapsed line, or anything else. Our sewer repair experts will do whatever it takes to get things back to normal at your place in Phoenix.
Phoenix Drain & Sewer Experts
Here at Reid & Pederson Drainage, we offer professional help with all your drainage and sewer issues. Our expert technicians will show up fast when you call for assistance, and can quickly take care of any problems and restore order. Get started now by calling our friendly team and making an appointment for drain or sewer service in Phoenix, IL today!