Drain Cleaning & Sewer Services in Riverdale, IL
For over 30 years, homeowners have relied on Reid & Pederson Drainage to keep their sewer and drains clean and safe. We are accredited with the Better Business Bureau and have a staff of licensed professionals that you can count on. Our company provides cost-effective solutions for all kinds of issues and concerns. Call us the next time you need drain and sewer services in Riverdale, IL!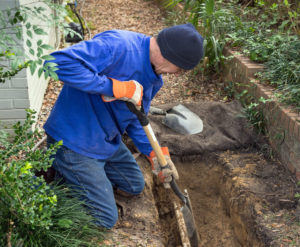 Drain Cleaning Services
If you have a clog in your system, we can get it taken care of in no time. From complicated commercial drain rodding to unclogging residential bathroom drains, you can count on our drain cleaning contractors for quality results. When you need drain cleaning in Riverdale, reach out to Reid & Pederson Drainage!
Professional Sewer Rodding
For more serious sewer blockages, we can perform sewer rodding in Riverdale. The high-powered blades on our rodding tools cut even cut through tree roots! When needed, we can also use high-resolution video cameras that travel hundreds of feet through sewer lines to get a first-hand look. This highly effective diagnostic tool eliminates guesswork and allows us to see exactly what is clogging the sewer so we can come up with a plan for sewer rodding in Riverdale.
Commercial Hydro-Jetting
We also offer hydro-jetting services for our commercial clients that are experiencing issues with their sewer system. Our staff uses professional equipment to clear out the pipes and get rid of any kind of blockage. This preventative measure is available for those in Riverdale that do not want to risk being unable to use the sink, toilets, or showers due to roots and debris blocking the lines.
Sewer Line Repair
Our contractors have the experience and technology to handle any type of sewer repair in Riverdale – from small isolated line blockages to large municipal sewer problems. We use video inspections to locate lines as deep as 30′ and pinpoint the exact location of problems, and can provide any necessary pumping.
Riverdale Drain & Sewer Service Experts
At Reid & Pederson Drainage, we can take care of all your drain and sewer needs. Contact us today! We have over 30 years of experience in providing residential and commercial services for drains and sewers in Riverdale. Our staff of technicians can provide you with cost-effective solutions to any problem you may have, 24/7, and for low, flat rate pricing. Be sure to contact the experts at our company next time you need drain or sewer help!