Drain Cleaning & Sewer Services in Robbins, IL
At Reid & Pederson Drainage, we are experts at providing professional drain cleaning and sewer repair services in Robbins, IL. From unclogging residential bathrooms to doing commercial hydro-jetting to repairing sewer lines, you can count on our contractors for quality results.
We have over 30 years of experience doing drain cleaning and sewer repairs, so you can place your trust in us for cost-effective solutions. For all your needs, be sure to contact the experts on our staff. Call now!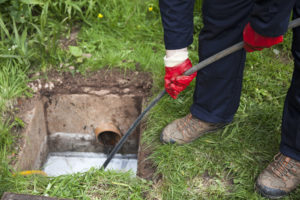 Expert Drain Cleaning Services
From simple residential systems to large-scale businesses, we have specially equipped trucks to handle any kind of clog. Our experts will come out and take a look at what's stuck in your drains, then get to work using our drain cleaning tools to get it cleared out with little or no disruption to you. Once the drains are cleaned we will inspect everything to make sure we solved the problem all the way.
Sewer Rodding Services
If you suspect that your sewer pipes need a good cleaning, contact the experts on our staff for sewer rodding in Robbins. We can come out and do sewer rodding, which is a highly effective method to clear out the pipes and get everything flowing properly like it is designed to.
Commercial Hydro-jetting
We offer hydro-jetting services to our commercial clients. For these jobs, we use high pressure water to break up tough blockages and blast the debris, grease, soap, and waste out of the pipe. No matter how dirty the sewer lines are, our technicians can get it taken care of.
Sewer Line Repair Service
The main sewer line is important; it collects all the debris from drains that are connected to it and flushes everything into the city sewer system or a private septic tank. But these pipes do experience wear and tear over time, and are not invulnerable to disruption caused by outside forces. If anything happens to the line, our sewer line repair in Robbins can fix it quickly.
Robbins Drain & Sewer Pros
Reach out to Reid & Pederson Drainage the next time you need to have your drains or sewer worked on. We'll have things flowing as normal and ensure your pipes are clog-free in no time. Our experts can provide you with solutions for any drain or sewer problem in Robbins, 24/7, and for low, flat-rate pricing. Contact us today!