Sewer Maintenance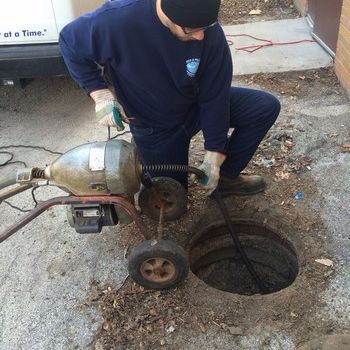 If you're like most homeowners we talk to, when you think about your sewer, you probably hope that nothing bad is going on down there because you have no way of knowing its condition.
However, when you rely on Reid & Pederson Drainage for annual sewer maintenance in Crete, IL or the surrounding area, you can have the peace of mind that comes from knowing your sewer is in great shape.
What is Involved in Home Sewer Maintenance?
Sewer rodding done once a year by Reid & Pederson prevents sewer backups by eliminating roots and other debris that can clog your sewer line. Tree root intrusion is the number one cause of sewer backups that we see. Roots find a way into your pipes through holes and cracks in them, seeking the water they need to thrive. Items flushed down the toilet (toilet paper and everything else you should NOT flush) get tangled in the growing roots and cause serious problems for your sewer line.
Our Preventative Sewer Maintenance Program
Reid & Pederson's Annual Preventive Sewer Maintenance program not only eliminates blockages in your line, but it eliminates worry you may have about your sewer. Participation in the program is free and if you have your sewer rodded with us for the first time, you're automatically enrolled. As long as you have your sewer rodding done within 12 months of your last one, you receive a $40 discount and a full one year guarantee on your rodding. That means that any time you back up within the 12-month period, we send a technician back to your home to rod your sewer at no charge. How's that for peace of mind?
Our office also sends you a reminder postcard, an email and gives you a phone call when you're due for your annual service. That means you don't have to keep track of any coupons or reminders yourself. We log it all in our system and know exactly when we were at your home, the name of the technician who performed the rodding, where your cleanout is located and what we discovered during the rodding.
Preventive maintenance gives peace of mind by knowing your sewer is always running freely. If, during your preventive rodding, we discover issues in your line, we will always let you know. For an additional charge, our talented technicians will perform a thorough sewer video inspection that gets to the bottom of your sewer issues.
The Benefits of Sewer Maintenance
Participation in our Sewer Maintenance Program identifies potential sewer problems before they become serious, keeps your sewer flowing year after year and also provides you with the following benefits:
Find problems before they become catastrophic. Avoid sewer backups (and the damage they cause) when you discover problems early.
Give yourself peace of mind. When you know your sewer is in great shape, you won't have to give it even a second's thought until it's time for your next annual rodding.
A $40 savings off our regular price of rodding plus a full one-year guarantee.
Reminders of upcoming service so you don't have to keep track of when you're due for your maintenance.
Convenient scheduling on your time, not ours.
Sewer Maintenance Specialists in Crete & Beyond
If you're ready to schedule your annual sewer maintenance in the Crete area or if you'd like more information about our annual sewer maintenance program, give us a call at Reid & Pederson. Make your appointment today!
Learn More About Sewer Maintenance in Crete & Beyond
Check out our blog posts below for some helpful info, expert tips and more!