Sewer Line Locating Crete, IL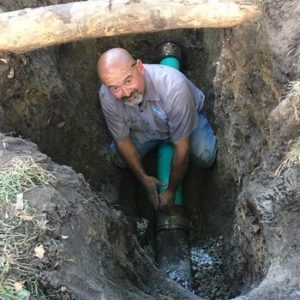 If you're doing a sewer repair, you'll most likely be required to locate the sewer line and utility lines on your property to ensure these lines are never hit during digging.
When you find yourself in this situation, call Reid & Pederson Drainage for sewer line locating in Crete, IL or the surrounding area. Our drain and sewer specialists have the tools necessary to determine where the sewer line runs and how deeply it is buried so we can begin your sewer repair or so you can proceed with other construction projects with peace of mind.
Our Sewer Line Locating Method
Sewer line locating is pretty straightforward. Our technician places a detector in your line and follows it from a handheld device above ground to determine exactly where your sewer joins the house to where it meets the city main. Sewer line locating gets you the information you need to avoid a disaster from happening during your sewer repair.
Crete Sewer Line Locating Pros & More
At Reid & Pederson Drainage, not only are we pros when it comes to sewer line locating, but we also offer a complete array of sewer line services. No matter what you need to have done with your sewer line, we'll do the job efficiently and effectively so you can get on with your life. We offer sewer rodding, broken sewer pipe repair, sewer cleanout installation, sewer televising and more. When you need a sewer expert, contact us at Reid & Pederson right away.
Contact Reid & Pederson Drainage today for sewer line locating in Crete, IL or the surrounding area!