Sewer Inspection Crete, IL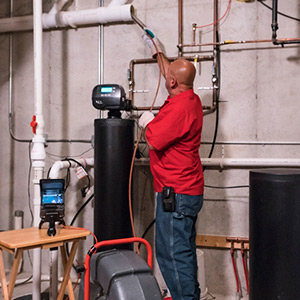 Do you need to know what's going on in your sewer line in Crete, IL or the surrounding area? Has another company told you that your sewer line is broken and you would like a second opinion? Call the drain and sewer service experts Reid & Pederson for a sewer camera inspection today.
These are great when you suspect a sewer problem but you're not sure where it is or what is causing it. They are also a good idea if you are purchasing property. The inspection allows you to see what is going on in the sewer line so you can make wise decisions during the home buying process.
In order for us to gain a clear picture of what's going on in your sewer, your line must first be clear. So if you have a blockage in your sewer, it must be rodded first. We cannot put a camera underwater to find your sewer problems. Once clear, the sewer camera inspection can begin.
Our Sewer Inspection Process
Our sewer technician will give you an insider's look into what is going on in your sewer line. Your service pro will begin by locating your sewer cleanout. Many times, your cleanout is found outside. Sometimes it is in the basement or a utility closet too. If you don't know where it is, don't worry! Our experts can find them without any problems and if you're an existing customer, we also keep a detailed history of your account so your technician can simply look it up!
Once the cleanout is located, our technician will then send a small, high definition video camera on a flexible cable down and into your sewer line. This camera gives us a complete view of what is going on in your sewer and allows us to spot any cracks, breaks, or misaligned pipes in your sewer line. As the camera records what is happening below, our technician can see the video on a screen located above ground. Our service pros are more than happy to show you the video as they're televising and walk you through their process and what they are seeing. Sometimes our cameras pull back mud. In this case, you most certainly have a break in your line and a repair is needed.
When your sewer camera inspection is completed, we'll send you a copy of your sewer video inspection within a few days, along with a report detailing the problems found and our best recommendations for your sewer repair
Schedule Your Sewer Camera Inspection
No matter your reason for needing a sewer inspection in Crete, IL or the surrounding area, call us at Reid & Pederson today! We'll get to you ASAP and help you get a picture of exactly what is happening down in your sewer line. Schedule your sewer line video inspection today!
Learn More About Sewers Line Inspections in Crete & Beyond
Check out our blog posts below for some helpful info, expert tips and more!