Sewer Repair in Saint John, IN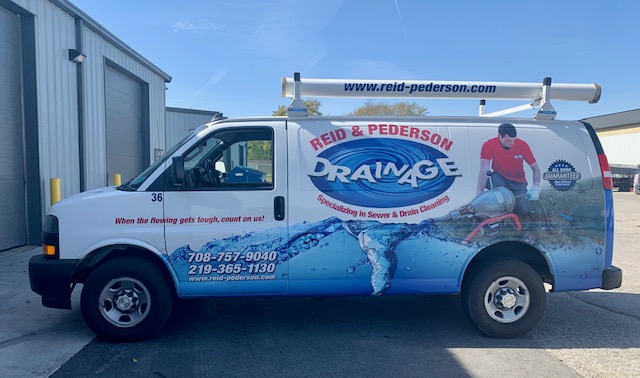 Sewer repair…these words can strike fear into the hearts of Saint John, IN homeowners. After all, we've all heard horror stories…people pay thousands of dollars, have their entire yard decimated and it still doesn't solve the problem.
Fortunately, sewer line repair in Saint John, IN doesn't have to be difficult, frustrating, or anxiety-producing. In fact, most sewer repairs are straightforward, can be done without pulling up your yard, and won't cause any headaches. If you suspect a sewer issue, call us at Reid & Pederson and let us worry about it for you.
Signs Your Sewer Needs Repair
Not sure what's going on in your house? The following signs indicate a problem with your sewer.
Your house smells like sewage. If your sewer line backs up, the gases that are supposed to dissipate can enter your home instead. A sewage smell that persists means it's time to give us a call.
You have patches of green or lush vegetation. Many of the things that sewer lines usually flush away are actually good for growing things. If these are escaping the sewer line somewhere, the vegetation directly above the leak may grow better than the rest of your yard.
Unexplained plumbing sounds. If your water gurgles, bubbles, or makes any other odd noises, it's time to bring in a sewer repair professional.
Fixing Your Sewer
Once you give us a call for sewer line repair in Saint John, IN, we'll send someone out quickly. Our sewer experts are polite and professional. They will listen to you describe what's going on in your home, then assess the issue.
Before our sewer technicians start working, they will explain the process to you. They'll tell you what they find and how your sewer problems usually get fixed. They'll let you know about any decisions you need to make, then they'll ensure that you have the information necessary to make informed choices that are good for you and your family.
Trenchless Sewer Repair
When you call Reid & Pederson, you don't have to worry about your sewer line repair in Saint John, IN ruining your yard or your garden. Most of our sewer repairs are performed without digging a trench. Sometimes, we need to dig a small hole, but these are less disruptive than sewer repairs were in the past.
Instead of digging, we'll complete the repair via the sewer access in your home. We have state of the art technology to replace, reroute, or clean pipes, right from your basement or your yard.
Saint John Sewer Line Repair Pros
If you think you have a sewer problem and you need professional sewer repair in Saint John, IN or the surrounding area, call Reid & Pederson today. We will make sure you get your home back the way you like it, with everything working well. And we won't leave until you're completely satisfied!