Garbage Disposal Installation Crete, IL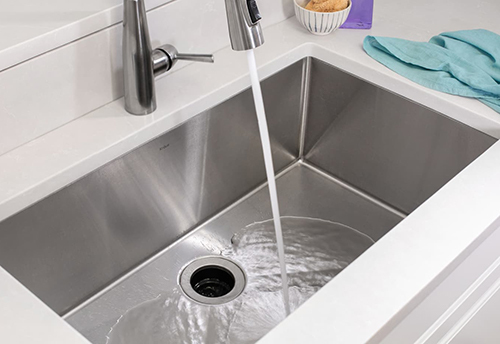 Your garbage disposal is a handy tool for easily eliminating leftover food scraps. Although handy, you should take precaution when operating it to ensure it can fully and effectively do its job.
When you notice your garbage disposal isn't working like it should, or the way you need it to, it may be time for garbage disposal installation in Crete, IL. That's where the drain and sewer experts at Reid & Pederson can help!
Signs You Need to Garbage Disposal Replacement
Sometimes, it's a better idea to install a new garbage disposal rather than to repair the old one. This can be true if yours is going to be expensive to repair, if it is breaking often, if it's not doing the job you need it to do even when it's working, or when you're replacing your sink.
Other common signs that you need to replace your garbage disposal include:
Strange or unusual noises coming from the unit
A bad odor that will not go away with cleaning and disinfecting
Your disposal stops working
You notice water leaking from your disposal
You have to frequently press the "reset" button located on the unit.
Call us at Reid and Pederson Drainage when it's time for garbage disposal installation and we'll help you find the very best garbage disposal for you and your family.
How to Take Care of Your Garbage Disposal
If you take good care of your garbage disposal, you won't have to call us for help as often. Here are some things you can do to keep your disposal in great working order.
Don't put grease down it. This can harden once it cools down, creating clogs in your disposal. It can also gum up the blades, which makes your disposal less effective and may cause large chunks to get through it.
Don't put coffee grounds down it. Coffee grounds become a sort of sludge that can stick to parts of your disposal, making it harder for them to work well.
Don't put eggshells, pits, seeds or animal bones down it. Eggshells have a filmy membrane that can wrap around the moving parts in your disposal and cause problems. Pits, seeds and animal bones are too hard for your disposal to break up and can get stuck or cause it to lock or break.
Always run water when your disposal is on. This is the way it is designed to work. If you don't run water, then it's harder for things to progress all the way through your disposal to the drain. They can get stuck, causing clogs and more. Keep the water running for a few seconds after you turn the disposal off, too, just to ensure everything is out.
Know where your disposal key is. Most garbage disposals come with a small key that you can insert into the bottom to turn it manually if it gets stuck. These can help you get things all the way through the disposal even if the blades don't want to move on their own. Never force it but do use this when you need to.
Garbage Disposal Installation Pros in Crete, IL & Beyond
If you're experiencing issues with your garbage disposal, give Reid & Pederson a call! We proudly install Badger brand disposals, a brand we trust and fully stand behind. We will get a service technician to your home ASAP to install a new garbage disposal for you in Crete, IL or the surrounding area!
Crete Garbage Disposal Installation FAQ
Learn More About Garbage Disposals in Crete & Beyond
Check out our blog posts below for some helpful info, expert tips and more!