Sewer Rodding Crete, IL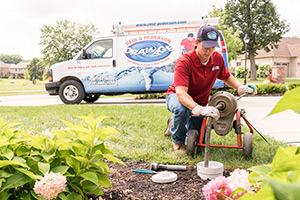 If you have a blockage in your pipes, sewer rodding is often the best way to get rid of it. Sewer rodding eliminates even the most stubborn clogs, like thick tree roots that have grown into your sewer line.
Since sewer rodding should only be performed by trained professional drain cleaning experts, call us at Reid & Pederson if you think you might need to have this done. We'll evaluate your problem, then get to work fast.
How Sewer Rodding Works
Sewer rodding involves threading a series of connected cables, called rods, into your sewer line. At the end of this rod is a head with very sharp mechanical teeth. Once the clog is found, a motor is started that causes the teeth to spin very rapidly. Here at Reid & Pederson, all of our technicians use 4" blades, which work better to remove difficult clogs from your sewer line. The teeth chop up your clog so it can easily get flushed down your sewer line and stop causing it to back up.
What to Expect During and After Sewer Rodding
The easiest way to access your sewer line is through an accessible outside sewer cleanout. Your cleanout is usually found somewhere in your yard and looks like a round pipe with a cap sticking out of the grass. If your home is on a slab or doesn't have a basement, then it may not have an outside cleanout. Our technician then has to rod your line through a different means, such as from a floor drain, toilet or the roof. These methods are more costly and are less effective than rodding from an accessible outside cleanout so it's a good idea to consider having a cleanout installed on your property for future roddings.
Once your cleanout has been located, our technician then uses the rodding machine to locate and cut through the entire clog in your line. He'll repeat the process several times to ensure that the clog is completely broken up and flushed away. Next, everything is tested to make sure your sewer is indeed working normally once again. Finally, he'll clean up the area, especially since sewer rodding can be a pretty messy process.
In instances where we believe your sewer line may be broken and in need of repair, we can send a small camera down your sewer line for an additional charge. This camera highlights and pinpoints where problems in your sewer line lie. You'll receive a copy of your video and from there, we can determine the best, most cost-effective solution to your broken sewer line.
Your Sewer Rodding Experts
Contact us today and get on our schedule to have your sewer examined. If it turns out that you need sewer rodding, we will get it done as soon as possible. That way, you won't have to worry about problems with your sewer line anymore.
Reach out to us at Reid & Pederson for sewer rodding in Crete, IL and the surrounding area or if you have any questions!
Learn More About Sewer Rodding in Crete & Beyond
Check out our blog posts below for some helpful info, expert tips and more!
Sewer Rodding FAQ
Recent Project: Sewer Rodding in the Nick of Time
Our office received a call late in the afternoon from a homeowner in Crete whose toilets in the home
were not flushing at all. He had recently sold the home and the closing on the house was scheduled for
the next morning. We quickly dispatched a technician to his home to take care of the problem.
Our technician rodded the inlet from the septic tank and discovered that the line was packed with paper. With a lot of hard work, our technician opened the line and got things flowing once again. Our customer was grateful for the quick and efficient service and was relieved that the closing could go off without a hitch the next day.
We're always here when you need us; 24/7, 365 days a year. Sewer and drain problems can't wait so call us at Reid & Pederson Drainage today!