Sewer Rodding in Schererville, IN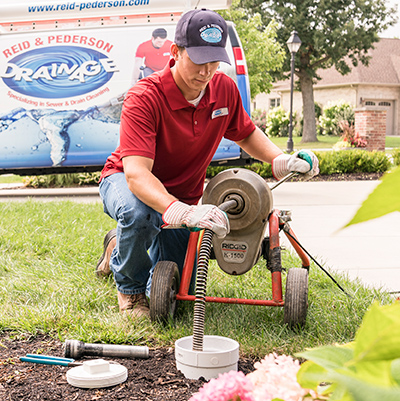 When you need sewer cleaning in Schererville, IN, don't panic! Just bring in an experienced sewer cleaner from Reid & Pederson to get the job done well.
We'll figure out why you have a clogged sewer line, then clean the sewer so it flows the way it's supposed to. Stop feeling anxious about your sewer in Schererville, IN and call us now!
We'll take the stress away and make your home a better place to live.
Our Sewer Cleaning Process
We'll start by sending a camera down the clogged sewer line in Schererville, IN This will show us what the clog is made of and tell us exactly where it is located. Both of these factors help us decide which sewer drain cleaning method to use. Once we have a plan in place to get your sewer cleaning services done fast, we'll talk to you about what you can expect.
When you agree to let us clean your sewer, we'll get started as soon as we possibly can. We recognize that you can't live well without a sewer line that works, so we'll prioritize your sewer rodding services in Schererville, IN. Before long, your line will be clean and you'll be relieved to get back to your normal routine.
Whenever we can, we'll perform your sewer cleaning trenchlessly, via hydro jetting or sewer rodding. This means that we won't have to dig a trench through your yard along the entire length of the sewer line. Instead, we'll use the access portal in your home, along with the latest in sewer drain cleaning technology, to get the pipe cleaned out. Trenchless methods are faster, cheaper, and you won't have to replace the front yard when we're done. We can clean out many sewer clogs with trenchless methods.
If these methods won't work for your home or your sewer problem, we'll clean your sewer the old fashioned way. We'll get a dig team out to your house and have your sewer line cleaning in Schererville, IN completed ASAP.
Work with Reid & Pederson to Get Your Sewer Cleaned!
When you want experts to perform your sewer cleaning in Schererville, IN, the skilled sewer cleaning pros at Reid & Pederson would love to help you out. We'll get to you ASAP and come up with a sewer rodding plan that is unique to you and your home's needs. Before long, your clogged sewer line will be gone and you'll have the reliable plumbing system you need in order to live a great life!