Sump Pumps & Ejector Pumps Crete, IL
Do you worry about your Chicago-area or Northwest Indiana basement flooding? Call the drain and sewer experts at Reid & Pederson today! We'll install a sump or an ejector pump that will relieve your anxiety and ensure your basement never floods again.
And if your home is prone to power outages, we even install battery backup pump systems to give you guaranteed peace of mind your basement will never flood.
Sump Pump Installation
Sump pumps help protect you from a flooded basement by pumping away water due to heavy rains or due to a high water table in the ground your home is built upon. Some homes use their sump pumps year round, while others only need them when there is a storm or a lot of melting snow that raises the water table temporarily.
Many homes that contain basements contain sump pumps, however, some do not or the pumps in the home need to be replaced. You can quickly test your sump pump by simply unplugging it and plugging it back in. If the pump kicks on and begins draining water, your pump is working correctly. You can also test your pump by running water through it. Adding just enough water to reach the float, make sure that your pump turns on and begins pumping the water away. If any of these two tests fail, your pump probably needs service or replacement.
At Reid & Pederson, we install high-quality, long-lasting sump pumps that guarantee no more worrying about water entering your basement. Our professional technicians have the knowledge to quickly get a brand new sump pump installed for you that will protect you from a flooded basement for years to come.
Battery-Backup Sump Pumps
We also install battery backup sump pump systems that keep your pumps working in the event of a power outage in your home. Since your pumps are especially active during storms, a battery backup system is especially helpful in preventing a flooding disaster by turning on as soon as your electric pumps go out due to loss of power. Let our technicians install a battery backup system for you and give you peace of mind knowing you'll be free from flooding.
Recent Project: Window Well Repair Eliminates Drainage Problem for Crete Customer
A customer in Crete called us with a concern regarding a window well on his property. Reid & Pederson sent a technician to his home to have a look. The first thing our technician noticed is that the landscape was slightly sloped toward the window well, not away from it. Our first recommendation was to regrade the landscape so that water would flow away from the house. Next, our technician recommended installing a small pit and pump within the window well to ensure that water would not pool within the window well and present any further problems to the customer.
Our team of technicians dug two feet down in the window well and installed a small 10" sump basin, to which they then installed a 3" drain in. Our team also installed a new vertical switch sump pump and discharge line to further ensure that water cannot find a way into the customer's home.
Recent Project: A Smelly Sump Pump Situation
One of our very own employees needed our assistance when she and her husband woke up in the middle of the night smelling an oil-like odor throughout their home. They discovered that the smell was strongest in the basement and upon entering, quickly realized that it was coming from the main sump pump in the corner.
Our technician arrived the next day and discovered that oil from the pump had leaked into the sump pit, causing the strong smell when the pump turned on to pump away rainwater. The pump had begun to fail and therefore, parts inside of the pump began to do the same. Our technician replaced the pump and installed a new quiet check valve. Within a day, the smell had completely disappeared and the problem was solved.
Ejector Pump Installation
Ejector pumps help pump the solid waste out of rooms that are located below ground level. If you have a basement bathroom, chances are good that you already have an ejector pump in your home.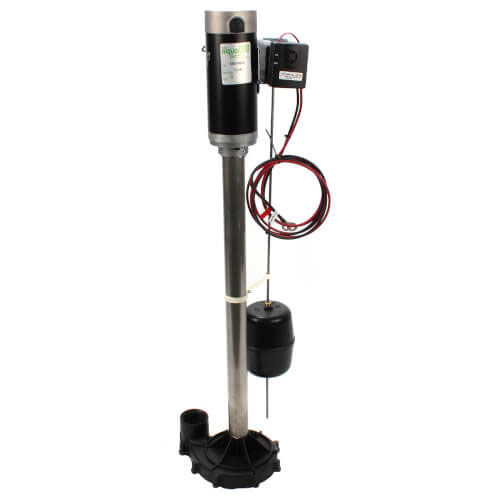 These pumps collect waste from the bathroom until it reaches a certain level in the collection container. At that point, it pumps the water from that storage container into your main sewer line. You probably also have a backflow valve to prevent wastewater from flowing back into your home from the sewer.
Our experienced technicians can quickly diagnose your ejector pump problems and can install a high-quality, long-lasting ejector pump that will give you peace of mind for years to come.
We also install battery backup sump pump systems that keep your pump working in the event of a power outage in your home. Since your pumps may be especially active during storms, these systems can save your home from a plumbing disaster by turning on as soon as your electrical sump pump goes out.
Ejector & Sump Pump Experts
Avoid a flooded basement and all of the headaches that come with it and call Reid & Pederson to schedule service and learn more about the brand of sump pumps and ejector pumps we install. We'll get to you quickly and install a pump that addresses all of your concerns. We offer a 2-year warranty on parts and labor for our sump and ejector pumps, and a 3-year warranty on parts and install of our battery backup systems. Pretty soon, you won't have to worry about flooding anymore!
Ejector & Sump Pump FAQ
Learn More About Ejector & Sump Pumps in Crete & Beyond
Check out our blog posts below for some helpful info, expert tips and more!