Drain Cleaning & Sewer Services in Park Forest, IL
At Reid & Pederson, we have worked with homeowners just like you all over Park Forest, IL. We know how stressful it can be to find out that you need to have your sewers or your drains cleaned. In fact, sometimes it can be hard to live your life normally without these parts of your home at full functionality.
When you find out what you need drain or sewer service in Park Forest, IL, contact us at Reid & Pederson right away. We'll make sure that you and your family have the flowing drains you need to thrive and to be able to focus on the things you love the most.
Drain Cleaning Services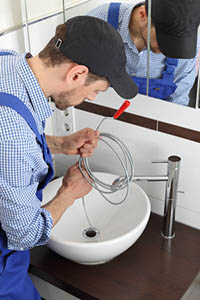 We'll get your drain cleaned no matter what it takes. Our drain cleaning services in Park Forest, IL are performed using heavy-duty cleaning machines that quickly find your clog, break it up and flush it down your line. All of our technicians are equipped with these machines. Before you know it, your drains will be flowing freely once again. Your drain expert from Reid & Pederson will get your drain cleaning in Park Forest, IL done ASAP.
Sewer Rodding
No matter what has gotten into your sewer and is causing problems, we'll get it out. Our experienced technicians have the knowledge and equipment to quickly diagnose your problem and then get to work sewer rodding your Park Forest, IL home. Our sewer rodding is quick and effective so you'll be back to your regular schedule in no time!
Hydro-Jetting
Hydro-jetting in Park Forest, IL, is an effective way to clean pipes that have heavy buildup on them, such as scale, grease or other mineral deposits. Over time, pipes age so hydro-jetting is one way to thoroughly clean pipes without damaging them. Hydro-jetting involves sending a steady stream of high-pressured water through the pipes so it loosens, breaks down and blasts away even the toughest clogs. Ideal for commercial settings, hydro-jetting will have your old pipes sparkling clean once we are done with them! If hydro-jetting in Park Forest, IL is right for you, give us a call today!
Sewer Line Repair
Needing sewer line repair in Park Forest, IL doesn't have to be stressful. If you're suffering from repeated sewer backups in Park Forest, IL, our professionals can diagnose your problems and provide you with the best sewer repair method for solving them for good. Our expert sewer repair team provides quality results that corrects broken sewer pipe or collapsed sewer pipe that has deteriorated over the years in your Park Forest home or business.
Park Forest Sewer & Drain Experts
Stop worrying about your sewers and drains in Park Forest, IL and get in touch with us at Reid & Pederson today. We'll get your clog out fast and make sure everything flows as it was designed to before we leave. Before long, your home will be back to normal, so contact us to make your appointment today!