Drain Cleaning & Sewer Services in Flossmoor, IL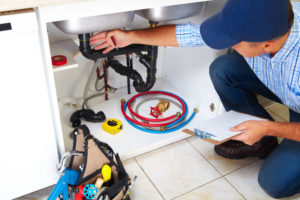 If you're like many homeowners, you don't think about your sewers and drains very often. In fact, you may never think of them except when they aren't working for you. If you're suddenly very aware of your sewer or your drains because they aren't doing their job, call us at Reid & Pederson today. We are your experts for sewer rodding and drain cleaning in Flossmoor, IL.
Drain Cleaning Services
When you need drain cleaning services in Flossmoor, IL, we'll be there fast. We know that your life doesn't work well when your drains don't work well, so we'll get things taken care of ASAP.
Our experienced technicians are equipped with the tools necessary to quickly eliminate your clog and get your drains flowing freely once again in no time. You can count on us for drain cleaning in Flossmoor!
Sewer Rodding
If you're experiencing repeated sewer problems in your Flossmoor, IL home or business, sewer rodding is a great way to eliminate blockages in your line that causes backups. Sewer rodding involves using a machine consisting of a cable with sharp teeth at the end. Once our technicians put the cable in your sewer line, the tiny teeth grind up your clog so it can be easily flushed away. Reid & Pederson has been providing sewer rodding in Flossmoor for over 35 years. If you're in need of a sewer rodding, give us a call today!
Hydro-Jetting
Hydro-jetting in Flossmoor, IL is one method we use for sewer cleaning. Hydro-jetting uses a powerful stream of water to break up clogs and blockages and flush them away. Hydro-jetting in Flossmoor, IL is ideal for commercial settings, such as restaurants where heavy grease tends to build up in pipes, or other applications where pipes show very heavy scale of debris.
Sewer Line Repair
Underground pipes deteriorate over time. Breaks or cracks in pipes caused by tree roots, collapsed sections of pipe or sagging pipes all cause repeated sewer backups that require sewer repair in Flossmoor. If you're experiencing frequent backups or other sewer problems call Reid & Pederson Drainage. We'll get a technician to your Flossmoor home to investigate your problem and devise the best solution for sewer repair.
Recent Project: Preventive Sewer Rodding in Flossmoor
Our customer in Flossmoor, Illinois called and scheduled their annual preventive sewer rodding with us. With several trees located on their property, tree roots constantly find a way into the sewer line.
We rodded the sewer from an outside cleanout, clearing away all roots and keeping the sewer flowing for the customer 24/7, 365 days a year!
Preventive maintenance from Reid & Pederson keeps your sewer flowing and makes problems a thing of the past!
Recent Project: A Dangerous Situation Averted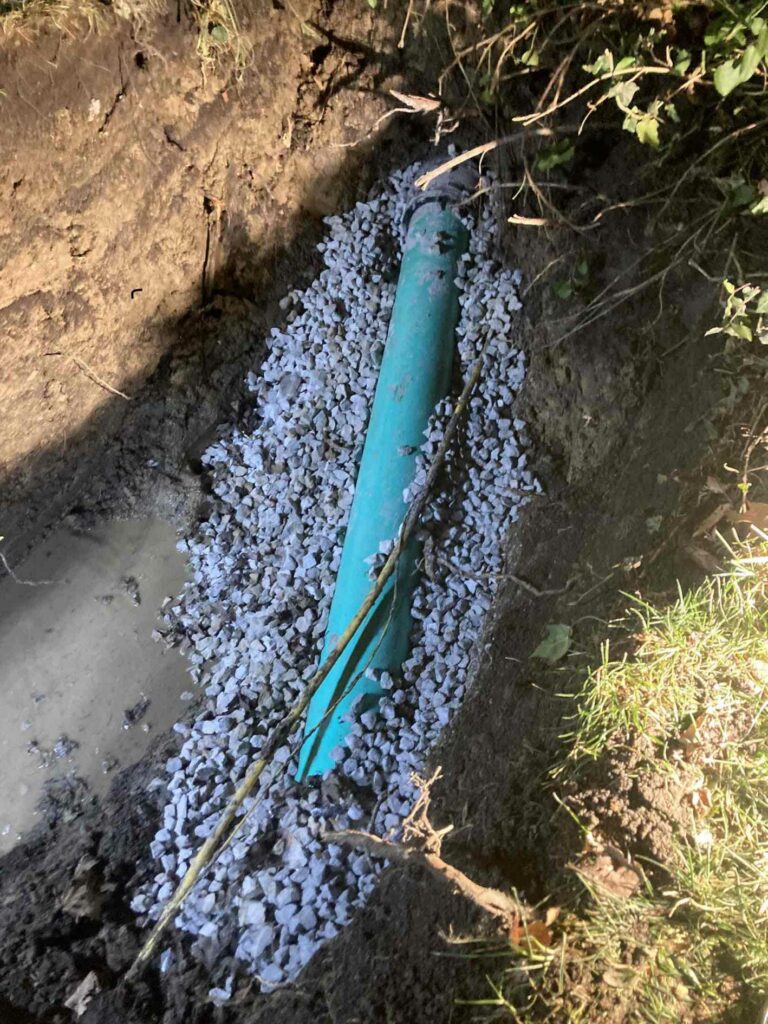 We received a call from a customer in Flossmoor asking to have his sewer rodded. When our technician arrived and began rodding from the cleanout the line became increasingly rough to rod as he moved through it. When he pulled the cables back, he noticed there was mud on them, usually indicating a break somewhere in the line. At that point, he put the camera in the line to investigate the problem. What he found next was a very dangerous situation – that the gas line had been cross-bored through the sewer line.
A cross bore happens when a second underground utility line is inadvertently run through an existing underground utility line. In this case, the gas line crossed through the sewer pipe. If our technician unknowingly struck the gas line while rodding, natural gas could have entered the sewer system and caused a very dangerous situation.
Our crew immediately called the gas company, who promptly sent a team out to investigate and repair the line. Because of his training and his quick thinking, our technician prevented a potentially very dangerous situation from occurring. Our customer was grateful for a disaster averted.
Recent Project: A Necessary Repair in Flossmoor
A customer called us needing their Flossmoor sewer rodded. Since they did not have an accessible cleanout on their property, our technician rodded from a pulled toilet. While rodding, our technician discovered that the overhead was shifted and that a repair was necessary.
On the day of the repair, our team dug down 2 feet to repair the broken overhead sewer pipe. A 4 feet section of the broken cast iron pipe was replaced with PVC. Once completed, our team rodded the line and discovered very heavy and thick roots at the end of the line.
Our team followed up a few days later and hydro-jetted the front main kitchen line cleanout to the tie in to the main to ensure the line was fully clear of tree roots.
Recent Project: A Flossmoor Drainage Problem Solved
A customer in Flossmoor called us stating that his outside cleanout in his backyard was overflowing. When our technician arrived, he learned that it was actually the catch basin on the back patio that was full to the top and needed repair. Before we could do any work, the catch basin needed to be pumped down so we could get a better look at the pipe and prepare an estimate for the repair.
What we found was a break in the sewer line coming off of the catch basin. When we arrived for the repair the following week, our plan was to eliminate the catch basin altogether and instead, install 6" PVC pipe over the main sewer line and also install a 6" cleanout on the kitchen line. Our team dug down about 4 feet to repair the break in the line and when the repair was completed, the customer was happy to know that his sewer issues were a thing of the past.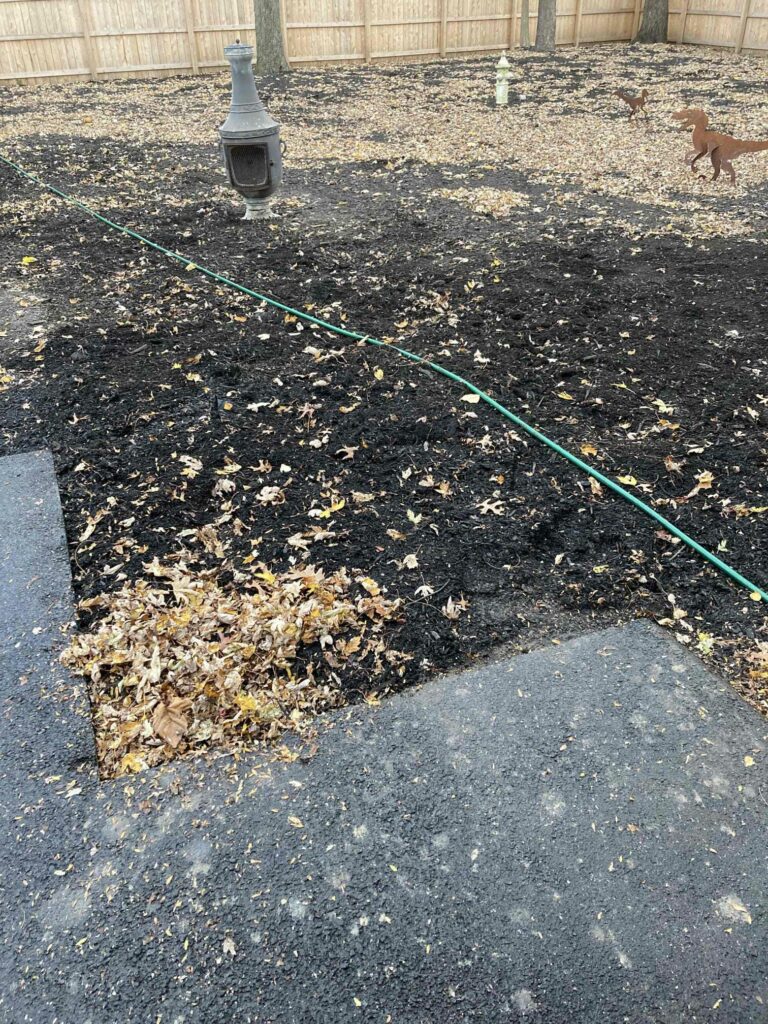 Flossmoor Sewer & Drain Experts
Contact us at Reid & Pederson today to get your drains and sewers working again. We'll send an expert out to you soon to get the job done ASAP. Make your appointment with one of our technicians today for drain cleaning in Flossmoor or any other sewer service you need!