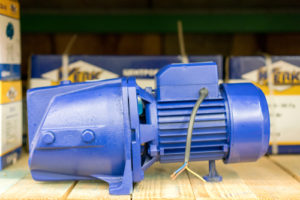 If you have a bathroom located in your basement, then you most likely have a basement ejector pump, too. The main purpose of basement bathroom plumbing with an ejector pump is to pump wastewater from bathroom drains out and away from your home.
Read on to learn why ejector pumps are a necessary item to have in your home.
How Does a Sewage Ejector Pump Work?
An ejector pump is necessary when the basement of a home contains a bathroom or a laundry room. Because these fixtures are located below the level of the main sewer line, and also because the flow of wastewater depends on gravity, an ejector pump is required to elevate the wastewater so it can flow out of the home properly.
Ejector pumps are installed in a pit that is dug well below the grade of a home. The drain lines from the basement plumbing all lead to the sump pit. When wastewater reaches a certain height, the pump begins pumping the sewage up to the level of the sewer line, where it is then pumped out of the home. This process repeats every time the pit fills. For an average sized home, the pit can usually collect around 30 gallons of wastewater before pumping begins.
Ejector Pump Maintenance is Key
Occasional maintenance checks of your ejector pump will ensure it's always operating properly. Although you should replace your sewage ejector pump every 7-10 years, these checks can help your pump operate at its peak efficiency and help you avoid sewage ejector pump problems. It's a good idea to perform the checks below at least seasonally:
Check that the pump pit is free of debris that can build up over time
Check the pump impeller for debris as this area is quite prone to clogs
Tighten any screws, belts or brackets on your pump to ensure top operation
Visually inspect your pump for any signs of wear and tear. Naturally, over the years some wear and tear is normal, however, look for broken seals, cracks or anything else that may require repair.
Inspect the motor and body very closely for signs of disrepair, and replace them if necessary
Ejector Pump Pros
These quick maintenance checks will not only keep your sewage ejector pump working optimally, they will also keep a mess from happening in your home. If you're experiencing problems with your ejector (or sump) pumps, give Reid & Pederson a call today. Our skilled technicians will diagnose your problem and repair or replace your ejector pump quickly for you!