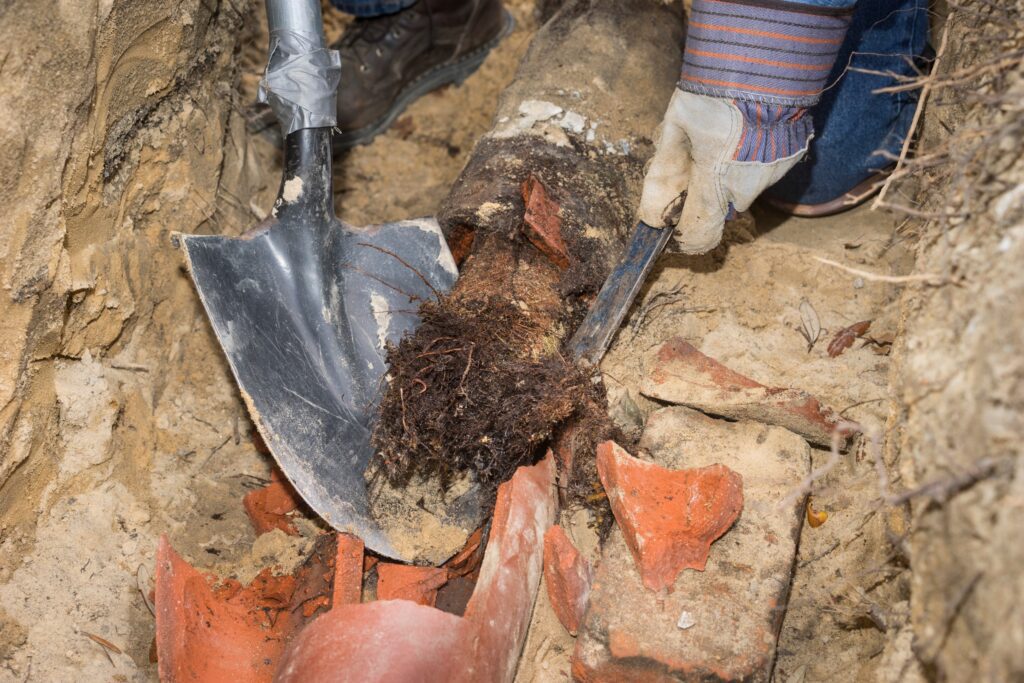 Being told you need a sewer repair in Crete, IL or the surrounding area can feel overwhelming. You may be wondering how long it will take, how much it will cost or what exactly will happen.
These are all common questions we are asked during the sewer repair process and we've compiled our answers below!
Keep reading to learn more, or feel free to reach out to the drain and sewer service experts at Reid & Pederson if you have any other questions or if you're ready to schedule service!
How Do I Know If I Need Sewer Repair?
The first step in any sewer repair is identification of the problem. Many times, sewer problems are uncovered during routine sewer maintenance calls. Sometimes we receive calls from our customers because they are experiencing recurring backups or a pesky sewer odor in their home. It is when our technician is on the job that the true extent of problems are identified.
If our technician is rodding a sewer line and begins pulling mud back on his cables, for instance, that would indicate a break somewhere in the line. Other times, while rodding, our technicians discover shifts in sewer lines that are the cause of sewer problems and necessitate repair. 
How Do You Know Where My Sewer Line is Broken?
In order for us to get to the bottom of the issue, we begin by televising the line. By placing a small camera in the line, our technician is able to record the condition of the pipe, including any breaks or offsets in it. Once we have the video from our sewer camera inspection, our team views it and puts their recommendations and findings into a formal estimate. Once an estimate has been accepted, the job is scheduled, permits are ordered and the property is properly marked to ensure no underground utilities are disrupted. 
What Does a Sewer Repair Involve?
On the day of your repair, our team will work diligently to correct your sewer problems. Many times, repairs consist of digging to expose the broken or cracked pipes and replacing them with new PVC pipe. And on most repairs, we also install an outside cleanout on your property, which allows us to easily and effectively rod your sewer in the future.
Why Is There a Mound of Dirt Where My Sewer Was Repaired?
One thing to note is that after your sewer repair, you will see a mound of dirt on your property. We go into more detail about why there's a mound of dirt where your sewer was repaired in a separate blog post, but we've outlined it here, too.
Your first reaction may be to think that the repair was not fully completed or that it was done incorrectly. But that's not the case. The mound of dirt is left because it must settle. Why must it settle? When soil continually sits in one spot, it becomes more and more compressed over time. When that same soil is dug up during a sewer repair, all those years of compression are undone as soon as the excavator hits the dirt.
While we always do our best to compact the soil the best we can before leaving, there still must be a period of time to allow the dirt to eliminate as much air in the soil as possible. We recommend letting the dirt settle for 2-3 weeks before moving it. If the dirt is taken away too soon, you could end up with a hole in your yard instead!
How Much Does Sewer Repair Cost?
The cost of a sewer repair varies greatly depending on several factors that include, but aren't limited to, where the sewer line is broken, the extent of the damage, the material used to replace it, if an outside cleanout needs to be installed, etc. The most accurate estimate is achieved on-site.
All that being said, here at Reid & Pederson, we understand sewer repairs can be costly. That's why we offer flexible financing options for your repair, so you can get the work done and not have to worry about such a large expense all at once.
Trusted Sewer Repair in Crete, IL & Beyond!
Reid & Pederson is proud to be your local drain and sewer expert! If you have any questions about sewer repair, or anything else related to drains or sewers in Crete, IL or the surrounding area, don't hesitate to reach out to our team!