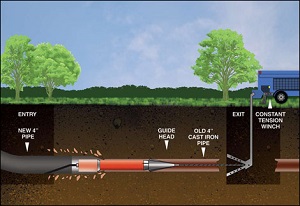 You might've heard of trenchless sewer repair, but you may not be aware of what it actually means when it comes to making repairs for your home's sewer line system.
At Reid & Pederson Drainage, our Crete drain and sewer repair experts have spent the last 35 years in the industry making repairs and giving our customers expert drain cleaning services. We've seen a lot of changes over the years, but not as much as in the last couple of decades.
New technology advances all manner of tools and equipment for differing industries over the years, and the plumbing industry has seen its share of tools and equipment which improve our work by making drain and sewer repairs easier and more efficient for our customers.
An easier and faster way to make repairs means you pay less in labor costs and have less destruction to your landscaping, especially with the trenchless or "no dig" sewer line or drain line repairs and replacements.
Here are a few of the common questions we frequently get from our customers about trenchless sewer repairs and replacements in Crete, IL and Northwest Indiana.
Help from the Drain & Sewer Pros!
With advanced technologies, your sewer system is in great hands at Reid & Pederson Drainage. We have all we need to make short order of your drain and sewer repairs, plus we strive to give you expert, drain cleaning, sewer lining, hydro-excavating, cleanouts, video camera inspections, and so much more!