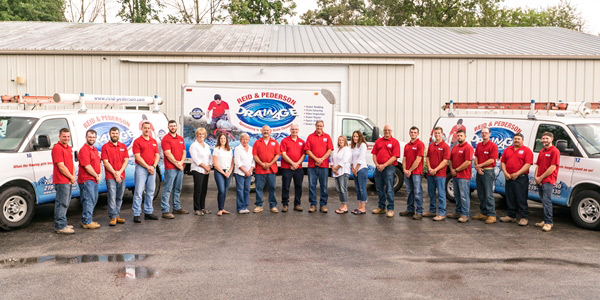 Here at Reid & Pederson, we take customer service and satisfaction very seriously. Our owners, Kevin and John Reid, foster a culture of "customer first" that begins with them and flows to every employee – from our office team to our technicians. This is the core value that drives us and motivates us to provide the best experience possible. To support this value, we promise the following to you during each and every job:
1) Fair and honest pricing
When you call for service, we'll quote you over the phone for the cost of your service. That's it; no more, no less. If our technician discovers additional work that is necessary while on the job, they'll let you know and get your approval before doing the work.
2) Experienced, knowledgeable and background-checked technicians
From their first day on the job, all technicians undergo on the job training and education to help them learn the ropes. We also provide ongoing training, use the most current and innovative sewer equipment and technology, and all of our technicians undergo a thorough background check.
3) You'll be treated like family
We're a family-owned business and we know the importance of family. We are a close knit work family and when you become our customer, we welcome you as a part of our family, too.
4) Communication
Sewer and drain problems are stressful enough. We eliminate your stress by maintaining honest communication with you every step of the way. From the moment you call our office to when your technician is dispatched, we keep you informed through phone calls, emails and texts. We also maintain records of all work performed at your home, preventive maintenance schedules and we send monthly email tips so you can always keep your sewer and drains in tip top shape all year round.
5) Honesty, respect and integrity
We take pride in our work and our company. Our longevity and  many five-star online reviews speak to our commitment to our customers and the service we provide. Our promise to you is simple – provide excellent customer service, at fair and honest prices that leaves you with a smile on your face after each and every job.
Trusted Drain & Sewer Experts in Crete & Beyond
If your sewer or drains need help, make Reid & Pederson the only call you make. You can learn more about us here, but we promise that one call will solve your drain or sewer problem and eliminate your stress!