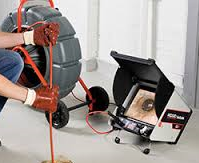 We received a call from a customer in Park Forest who was in the process of buying a home and wanted to have the sewer televised. During the inspection, our technician noted that the pipe going in looked good but the cast to clay connection going out to the main showed bad cracks and big offsets.
Once the televising was complete, our technician recommended that the sewer be lined to correct the problems with the pipe.
On the day of the repair, our team lined the sewer 40 feet from the 6" cleanout in the front yard to the city main, starting in 6" clay near the cleanout and ending in 6" clay just before the city main. The result was a free flowing sewer for the new homeowner designed to last for many years to come.
We're always here when you need us; 24/7, 365 days a year. Sewer and drain problems can't wait so call us at Reid & Pederson Drainage today!