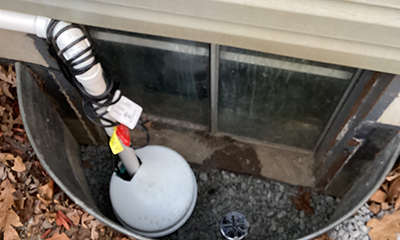 A customer in Crete called us with a concern regarding a window well on his property. Reid & Pederson sent a technician to his home to have a look. The first thing our technician noticed is that the landscape was slightly sloped toward the window well, not away from it. Our first recommendation was to regrade the landscape so that water would flow away from the house. Next, our technician recommended installing a small pit and pump within the window well to ensure that water would not pool within the window well and present any further problems to the customer.
Our team of technicians dug two feet down in the window well and installed a small 10" sump basin, to which they then installed a 3" drain in. Our team also installed a new vertical switch sump pump and discharge line to further ensure that water cannot find a way into the customer's home.
We're always here when you need us; 24/7, 365 days a year. Sewer and drain problems can't wait so call us at Reid & Pederson Drainage today!