Drain Cleaning & Sewer Services in Griffith, IN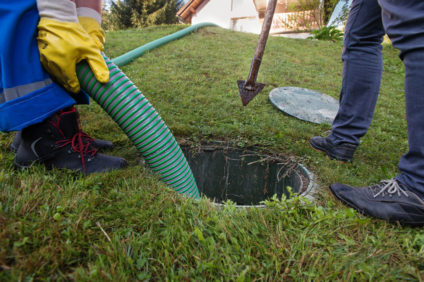 If you need professional help with your drains or sewer, give Reid & Pederson Drainage a call for sewer service in Griffith, IN. Our team of drain and sewer experts will clean out your sewer line or do any drain and sewer repairs needed to keep things flowing as they should.
The next time you are experiencing a drainage issue at your home or business in the Griffith area, reach out to us for quality assistance!
Drain Cleaning Services
The drains in your home work day in and day out to keep water flowing throughout your home. This repeated use can lead to signs of wear over time. Drains pipes can clog with residue or debris and the blockage will negatively affect how well your drain works. Before you know it, you're dealing with a massive clog that will not go away. No matter what the obstacle is made up of, how large it is, or where exactly it is located, call Reid & Pederson for drain cleaning services in Griffith, IN.
Sewer Rodding
Sewer rodding is our specialty here at Reid & Pederson Drainage. We employ sewer professionals with years of combined experience and we use only the most modern and thorough equipment to ensure your Griffith, IN sewer is always in tip top shape. If you're dealing with tree roots or other blockages in your sewer line, give us a call today for your Griffith, IN sewer rodding needs!
Hydro-jetting
Hydro-jetting in Griffith, IN involves spraying a sharp stream of pressurize water inside pipes to thoroughly clean them. Hydro-jetting is especially ideal for commercial settings, where pipes may contain heavy scale, grease or other buildup. Hydro-jetting in Griffith, IN is safe for pipes and leaves them sparkling clean after we are done. Give us a call today if you need hydro-jetting in Griffith, IN.
Sewer Line Repair
A broken sewer line causes quite a disruption to your home or business. Sewer backups and other problems will continue to happen without an effective solution. Sewer line repair in Griffith, IN from Reid & Pederson Drainage will clear up your repeated sewer backups and ease the worry from your mind. Our efficient and knowledgeable team of sewer repair experts will complete your Griffith, IN sewer repair quickly, so you can get back to enjoying your life.
Griffith's Drain & Sewer Company
For over 35 years, Reid & Pederson Drainage has been providing professional drain and sewer services in Griffith, IN. Contact us for cost-effective solutions and quality aid!
Browse Our Drain & Sewer Services