Drain Cleaning & Sewer Services in Hammond, IN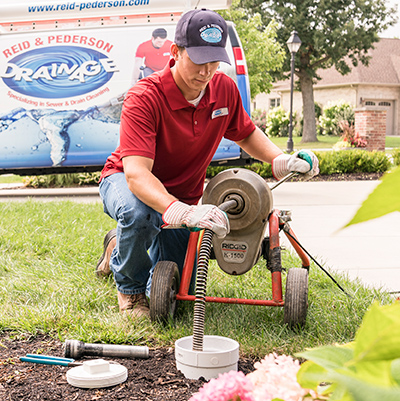 For over 35 years, homeowners have relied on Reid & Pederson Drainage to keep their Hammond, IN sewers and drains clean and safe. We are a Better Business Bureau Accredited Business with an A+ rating and have a skilled staff of licensed technicians to perform any kind of drain cleaning, sewer line repair, sewer rodding, or hydro-jetting that you need.
You can always count on us to provide cost-effective solutions and friendly service. Reach out now to make an appointment for drain or sewer service in Hammond or the surrounding area!
Drain Cleaning
Our team has provided residential, commercial and industrial sewer and drain cleaning in Hammond, IN for over 35 years. We can provide you with a solution to any drain problem you may have, and we also offer 24/7 emergency service. No matter what is clogging up your drains or what time it is that you need help, we can come out fast and get it done.
Sewer Rodding
We are also able to clear out clogs that are located deep within your sewer line. Our staff of experts can easily clear out any blockages using our specialized equipment. By the time we are finished with sewer rodding in Hammond, your pipes will be working as good as new again.
Hydro-Jetting
We also offer professional hydro-jetting services in Hammond and beyond. This is a highly effective process for clearing out pipes, using a hose that shoots high-pressure streams of water through the lines. It breaks up tree roots, clogs, and washes away residue and sediment that has built up on the walls of older, frequently used pipes.
Sewer Line Repairs
Our technicians in Hammond have the talent and technology to handle all types of sewer repair problems – from small isolated line blockages to larger, more complex problems. We use video inspections to pinpoint the exact location of issues to eliminate any guesswork, and then we get to work to quickly get things repaired.
Drain & Sewer Professionals Serving Hammond
The team at Reid & Pederson Drainage is available to take care of all your needs involving drain cleaning, sewer rodding and repairs, and hydro-jetting. Our staff has many years of experience being the area's top source for sewer and drain issues. If you are having problems with the drainage or sewer system at your property in Hammond, reach out to us now!
Browse Our Drain & Sewer Services