Drain Cleaning & Sewer Services in Lowell, IN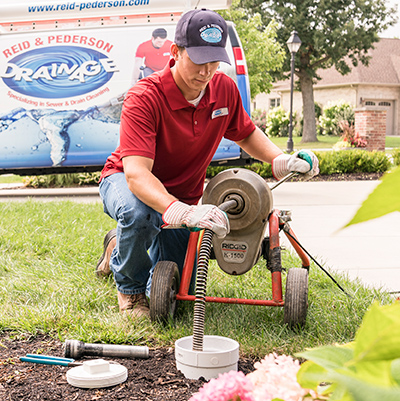 At Reid & Pederson Drainage, we have over 30 years of experience providing residential, commercial, and industrial drain and sewer services in Lowell, IN and beyond. We can provide you with cost-effective solutions to any problem you may have, plus we offer 24/7 emergency services and low, flat-rate pricing.
For all your Lowell drain cleaning and sewer needs, be sure to contact our experts for trusted help. Call us now!
Drain Cleaning Services
We are experts at providing professional drain cleaning in Lowell. From complicated commercial drain issues to unclogging residential bathroom drains, you can count on our contractors for quality results. When your drains start backing up and you suspect they need a good cleaning, contact us to come out in Lowell, and we'll have your water flow back to normal and ensure your pipes are clog-free in no time.
Sewer Rodding
The main sewer line is the most important plumbing component at your Lowell home or business. If this gets clogged up, you want to have it dealt with soon before things get worse and you have a septic backup on your hands. Our technicians can come out and do sewer rodding in Lowell to clean out the system and make sure that everything is flowing properly.
Hydro-Jetting
If you have dirty pipes at your commercial property, let us come out to perform hydro-jetting in Lowell, IN. We can use industrial-power machines to cut through tree roots, dissolve blockages, get rid of grease and soaps, and spray wash the pipe wall surfaces. This is a highly effective method to clear out your sewer, and causes no damage to the pipes.
Sewer Line Repairs
Unfortunately, the pipes beneath your Lowell home or business can start to have problems when they are old and worn. If there is any damage caused by misuse or by outside forces, we can come to do sewer repairs in Lowell. Our contractors have expert tools and equipment that we use to remediate issues and get your pipes stable and sturdy again.
Expert Drain & Sewer Service in Lowell
At Reid & Pederson Drainage, we can take care of all your Lowell drain and sewer needs. We offer reliable and professional services for residential and commercial clients, and will do whatever it takes to make sure things are working the way they should and that your pipes are in good condition. Contact us today for assistance in Lowell!
Browse Our Drain & Sewer Services