Drain Cleaning & Sewer Services in Beecher, IL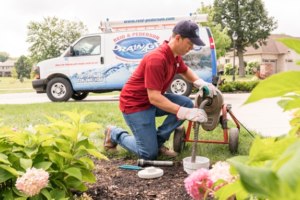 Problems with your sewers and drains can make life miserable. Instead of feeling stressed, though, you can call us at Reid & Pederson Drainage for drain cleaning and sewer service in Beecher, IL, and more.
We specialize in drain and sewer rodding, cleaning and repair so we'll figure out what's gone wrong with your sewer, then get it fixed fast. With over 30 years of experience we're the drain and sewer experts to call in Beecher!
Drain Cleaning Services
All of our drainage services start with an evaluation of the problem. We'll figure out what has gone wrong and where the problem is located. If you need simple drain cleaning services in Beecher, IL, we'll get the job done as fast as we can. We'll use professional-grade rodding machines and other equipment to get your clog out fast. If the problem is more complex and the clog is located in your sewer, we'll take care of that, too!
Sewer Rodding
Sewer rodding is our main specialty here at Reid & Pederson. For over 35 years, we have provided efficient, professional and effective sewer rodding in Beecher, IL to residential and commercial customers alike. Using high powered cutters, our rodding blades cut through the toughest roots and debris found in your sewer line, leaving it free flowing once again.
When you call Reid & Pederson for your Beecher sewer rodding, you can be assured you're getting exceptional service that solves your sewer problems, at a fair, honest and up-front price.
Hydro-jetting
Hydro-jetting in Beecher, IL forces a stream of pressurized water through your pipes. It can break up grease clogs, tree roots, and more, as well as cleaning off the inside of the pipe so it doesn't hold onto things and cause even more clogs.
Sewer Line Repair
Unfortunately, many of the countless pipes beneath our Beecher homes and businesses are old and worn. Though durable, these sewer pipes are not invulnerable to disruption caused by outside forces. Tree roots commonly cause clogs or damage to sewer lines which require professional cleaning and repair services. When you need sewer line repair in Beecher, count on the experts at Reid & Pederson!
Recent Project: Reid & Pederson Solves Mystery of Pooling Water in Beecher Customer's Home
A customer in Beecher called us stating that they woke up every morning to pools of water on their basement floor. Unable to determine where the water could be coming from, he gave us a call to come out and take a look.
After investigating the problem, our technician discovered that a small 1" pipe for the water softener and the furnace was clogged and flooding every night when the water softener turned on. This was causing the water to pool on the floor of the basement. Our technician quickly cleared out the pipe, solving the customers' problem and the mystery of where the water was coming from.
Beecher's Drain & Sewer Experts
Regardless of the drain or sewer service in Beecher, IL you need, the sewer experts at Reid & Pederson are the ones you want to work with. Give us a call today for drain cleaning, sewer repair and more; we'll get things flowing again soon!
Browse Our Drain & Sewer Services