Drain Cleaning & Sewer Services in Crown Point, IN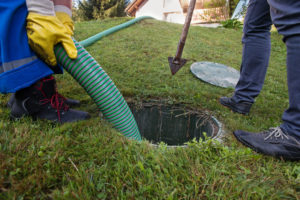 No matter what you need to have done with your drains and sewers, we are up for the job at Reid & Pederson. Call us as soon as you notice that you need drain or sewer service in Crown Point, IN. Sewer and drain problems only get worse when you ignore them. Instead of letting things get bad, contact us and get them fixed today!
Our team specializes in providing exceptional sewer and drain services in Crown Point, IN. We will get to you quickly and apply our expertise to your problem as soon as we can. Before you know it, we'll have your drain or sewer cleaned out so things will be flowing freely once again. Contact us today for fast service you can count on!
Drain Cleaning Services
Drain cleaning in Crown Point, IN is one of our specialties. As soon as you call us, we'll get you an appointment with a talented technician who will get to you quickly. Your technician will arrive on time, talk to you about the problems you've been experiencing, then get right to work.
Our drain cleaning pros use professional, heavy-duty drain cleaning machines that break up and flush away any clog you're experiencing. Whether it's a bathtub, kitchen sink, bath sink or toilet, we will get things flowing in your home or business in no time.
Sewer Rodding
If you need sewer rodding in Crown Point, IN, contact Reid & Pederson right away. Getting your sewer rodded is the easiest way to ensure your sewer is always working properly and backups are being prevented. Our sewer technician will arrive on time and get to work right away. Using the best equipment available, he will rod your sewer and clear out any blockages and debris from your line, ensuring you won't experience an untimely backup. We'll make sure that we find the clog and attack it the right way.
Hydro-jetting
Hydro-jetting in Crown Point, IN is a common method of pipe cleaning. Hydro-jetting sends a highly-pressurized stream of water through your pipes to clean and descale them. It is ideal for pipes with lots of buildup, such as scale, deposits or grease and is commonly used in commercial settings to keep lines flowing smoothly. Hydro-jetting in Crown Point, IN is easy and fast.
Sewer Line Repair
Your Crown Point, IN sewer repair doesn't have to be a hassle. When your sewer line is broken, you'll want to have it repaired as soon as possible. That's where our experts here at Reid & Pederson come in. We'll run a camera down your line to pinpoint problems with your sewer line. Next, we'll provide you with our estimate for recommended repairs. Before long, you'll have a free flowing sewer once again. Don't let sewer problems get the best of you. When you need sewer line repair in Crown Point, IN, Reid & Pederson is the only company you need to call!
Toilet Installation & Repair
Did you know that Reid & Pederson performs toilet repairs and installations? If your toilet has been giving you trouble, give us a call. We can replace or repair your toilet and have things "moving" once again!
Crown Point Drain & Sewer Specialists
Contact Reid & Pederson today for all of your drain or sewer needs. We'll work fast to get your home or business back to normal soon. Make your appointment now and we'll see you in Crown Point ASAP.
Browse Our Drain & Sewer Services