Drain Cleaning & Sewer Services in Merrillville, IN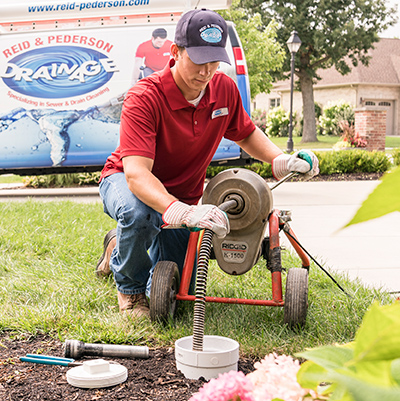 The team at Reid & Pederson has over 30 years of experience in providing residential, commercial, and industrial drain and sewer services in Merrillville, IN. We can provide you with cost-effective solutions to any drain or sewer problem you may have, and offer 24/7 emergency services in Merrillville.
So whenever you need to have drain cleaning, sewer rodding, sewer repairs, or hydro-jetting done, our experts can come to the rescue. Reach out to us right now for sewer or drain help in Merrillville!
Drain Cleaning Services
We are experts at providing professional drain cleaning services in Merrillville. From complicated commercial drain rodding to unclogging residential bathroom drains, you can count on the contractors at Reid & Pederson for quality results. No matter what is stuck in your drains and causing problems, we are sure to be able to get it out.
Sewer Rodding
Our Merrillville sewer rodding technicians have the talent and technology to clear out your dirty sewer lines and handle any type of problem – from small isolated line blockages to large municipal sewer problems. We can locate lines as deep as 30′ using our video inspections, and will pinpoint the exact location of the issues. Once we know exactly what is going on in the pipes, we can provide any necessary pumping and use our sewer rodding equipment to get everything cleaned out.
Hydro-Jetting
Hydro-jetting is a service that we offer for our commercial clients in Merrillville. This involves shooting high-pressure streams of water through the sewer system and pipes to clean it out. This process is very effective and can combat all kinds of blockages and even cut through tree roots.
Sewer Line Repairs
Regardless if it is roots or broken pipes that are creating an issue, our licensed contractors can help you repair or replace your sewer line in Merrillville. We can replace sewer lines that are showing signs of damage from time, poor quality materials, or root intrusion. We also can fix existing pipes and do sewer repairs to get things working as good as new again.
Merrillville's Drain & Sewer Professionals
Choose Reid & Pederson Drainage for all your Merrillville drain cleaning and sewer service needs. We are licensed professionals that can provide you with cost-effective solutions for any issue or concerns you may be dealing with. Our goal is to make things easy for you as a property owner while we take care of any problems for you in Merrillville. Things will be back to normal in no time; contact us today!
Browse Our Drain & Sewer Services